Blog — handmade
Posted by Tom Whitfield on
Check out how to easily make the perfect balloon arch using our glue dots with this step by step guide.
Posted by Sarah Brunskill on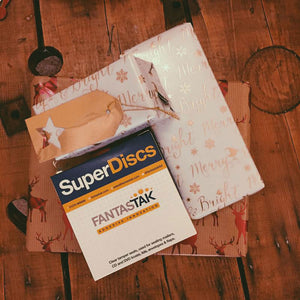 Gift wrapping can seperate people into two groups - the lovers and the haters. Whichever you may fall into this festive period we've got you covered. So here we go with the hero of your wrapping this year - clear discs. These little discs have been a life saver for us in our mammoth present wrapping sessions. No more messing around with reels of tape and scissors our discs come in sheets or in an easy to use dispensing box to eliminate all the fuss. Not only are these super easy to use they also look pretty good too!    ...
Tags:

allthingssticky, christmas, cleardiscs, craft, creative, discount, giftwrap, glue, Greeting card, handmade, homemade, presents, stickydiscs, superdiscs, vouchercode
Posted by Gwen Collingridge on
Foam Pads are ideal for creating 3D effects on homemade arts & crafts projects such as card making, decoupage, scrapbooking, collages, model making. Any layering you require is made quick & easy. As well as card making, Foam Pads are also great to use for many other creative projects and will stick to most surfaces including wood, paper, fabric, plastic, metal, vellum and even glass. These Foam Pads are sticky on both sides. To use just peel off the lining paper on one side and position it onto one surface like this: Then remove the lining paper on the other...