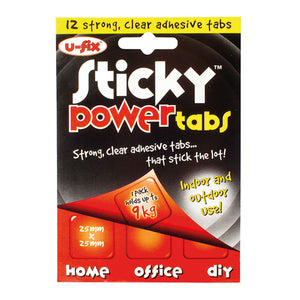 U-Fix Sticky Power Tabs - 12 x strong adhesive tabs 25mm x 25mm- Use instead of nails and screws
12 x 25mm x 25mm Clear Sticky Power Tabs
Sticky Power Tabs are strong, clear adhesive tabs that can be used instead of tapes, screws and nails. One pack can hold up to an incredible 9kgs!
They work on most surfaces including metal, glass, plastics and ceramics. They're heat, chemical and UV resistant giving them the ability to be used indoors and out.


    High Strength
    Weather Resistant
    Transparent and versatile
    Instant adhesive, that's heat and UV resistant
These Power Tabs are easy to use and the two sizes allow for fast easy assembly with an instant grab and a permanent bond

The Sticky Power Tabs bond on contact with no drying time or clamping required and have a glass clear transparency finish. Use our U-Fix Sticky Power Tabs to save money and time with increased efficiency and speed of application.

U-Fix Power Tabs main industrial use is for the affixing of signs indoor and outdoors without the need for power tools and fixings.
You can also use Power Tab's to fix letterboxes, coat, key hooks and racks, kitchen and bathroom accessories, cable trucking, skirting boards, dado and shower rails, fixing number plates, trims on cars, glazing repairs in greenhouses, door and house numbers to walls, garage doors and thousands of other applications.
Also available packs of 12mm x 12mm packs x 48 tabs 
---
We Also Recommend